Accommodation Features·Facility
Accommodation Features·Facility
The second floor lounge named "Deep blue lounge" has been devised to heal the tiredness of guests and calm the mind.
The deep blue gradation that surrounds the whole space gives the guest a restless feel like dancing slowly to the bottom of the deep ocean that feels no sound, weight and time.
The first floor features and seafood charcoal including Genya are also in, as throughout the hotel, you have to produce a quiet and calm down space, such as diving into the sea in the center of Tokyo.
During your stay you can enjoy freshly brewed coffee, juice and alcoholic beverages in the lounge.
In addition, there is private room for 6 people display partitioned by partition so we can have breakfast meeting and group meal.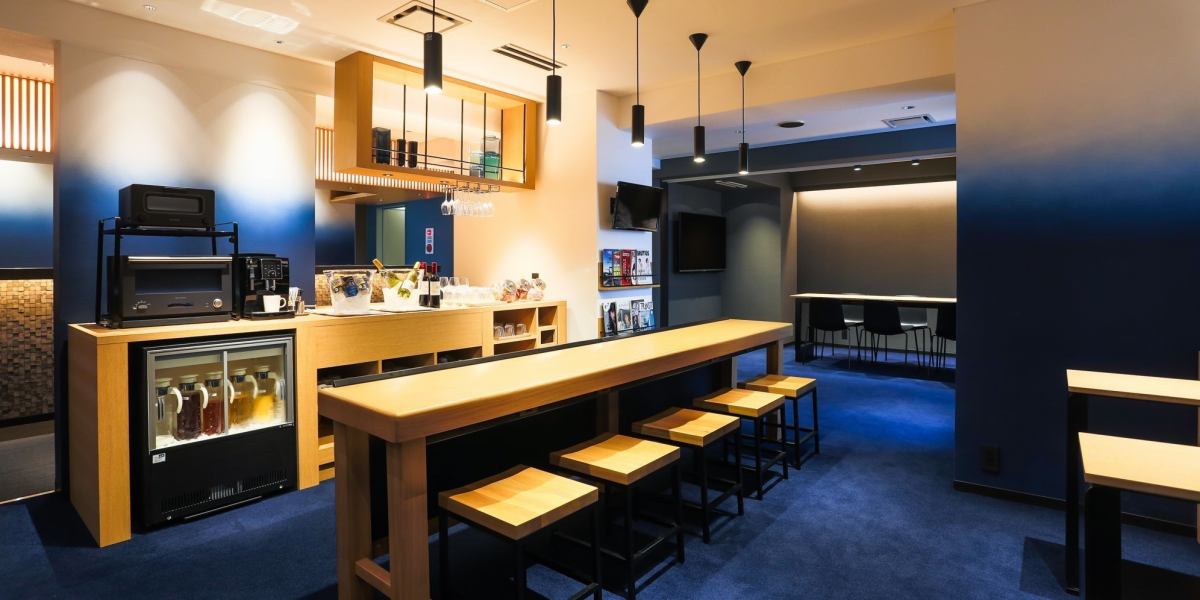 【Limited stay】Free drinks service in 2F lounge (Alcoholic beverages from 17:00)

The free drink space is equipped with an espresso machine, and other items such as oolong tea and orange juice are also available.

Feel free to use it during your stay.

Alcoholic beverages are available from 17:00.
We offer red wine, white wine, low-malt beer, canned chuhai, etc.
Please enjoy yourself.

※Please understand that the types of drinks are subject to change.

✰ The cafe can be used by non-guests as well.500 yen per hour.From 15:00 to 22:00.

vending machine

The vending machine is on the 2nd floor.We sell soft drinks and beer · chuhai.
Number of rooms

30 rooms in total:Western-style room 30 rooms
Western-style breakdown: 26 single rooms(10 to 10 m²)/2 twin rooms(18 to 18 m²) /2 double rooms (18 to 18 m²)

Room supplement

All rooms are non-smoking rooms.
(We have a smoking area on the 2F floor. )

Standard room facilities

All rooms bathroom toilet / all rooms shower / all rooms washlet / all rooms air conditioning / TV / satellite / refrigerator

Internet related

All rooms available
[Connection method]Wired LAN / Wireless LAN
[PC rental]No
[Internet connection]Free
○Wired / wireless LAN available.(There is a limit on the number of LAN cable loans.)
○Ask the front desk for the Wi-Fi password.

Amenities

Hand towel / bath towel / toothbrush·Toothpaste / shampoo / rinse / body soap / hair dryer / razor

Facility content

·2F floor
  vending machine(Soft drink, Alcoholic beverages), Icemaker
·2F lounge
  Microwave oven, Steam oven toaster【BALMUDA (Valmuda)】


Service & Leisure (including arrangement)

Cleaning service / Massage(Toll)

Credit cards available locally

JCB / Visa / Master / AMEX / UC / DC / NICOS / Diners / SAISON / Debit Card

Standard check-in time

15:00

Standard checkout time

12:00

Supplement for amenity

·Hairbrushes, toothbrushes, razors, body sponges, and cotton swabs are distributed at the front desk. Other amenities front desk distribution.
·Massage will be declined except for "massage at the hotel designated".

Occupancy tax

Tokyo Metropolis Ordinance will separately pay the accommodation tax (10000 yen to 14999 yen: 100 yen, from 15000 yen: 200 yen) per person.

Cancellation provisions

2 days ago - 1 day ago:20% of the room charge
On the day of arrival:80% of the room charge
Cancellation without any contact:100% of the accommodation fee
More than 10 people got 20% from 14 days ago (2 weeks ago)
※If there is a cancellation rule setting for each accommodation plan, that will be given priority.